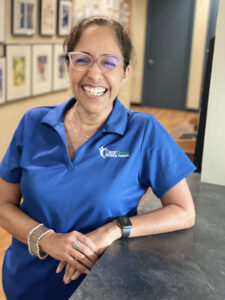 Fiorella – known to everyone as "Fi" – was born in Peru but has called Fort Lauderdale home since her childhood. 
A seasoned professional, Fi has been practicing physical therapy for 25 years.  During that time she has focused on general orthopedics, but has developed a particular passion for treating post-surgical patients.  Regarded as a true specialist in rehabbing total hip and knee replacements, Fi gets sincere satisfaction in helping someone realize that they can get back to the lifestyle they had before surgery and, in most cases, an even better one.
Fi began her career in physical therapy with Health South.  Proving herself early on, management recruited her to help establish multiple outpatient clinics in the Fort Lauderdale area.  After taking some time off to have her children, Fi got back to helping patients at a physician-owned practice in Plantation.  Fi's next opportunity brought her closer to home.  She accepted a position with Back to Health, a private outpatient clinic in East Fort Lauderdale where she remained for the next 12 years.  It was only after reconnecting with the Bleekers (owners of Clear Choice Physical Therapy), who were old family friends, that she decided to join the Clear Choice team.  
A naturally cheerful, positive person, Fi only sees opportunities where others see obstacles.  She is quick to encourage her patients to "talk to her" about any obstacles they're facing in their treatment.  And she listens. She wants to know when something hurts or doesn't feel right.  Her vast experience has taught her many ways to heal and strengthen the body, and she is eager to find the way that works best for them.  She cares for her patients like family, and they know it.   
And family-first is what she is.  Fi and her husband, Patrick, have three children: Tyler, Audrey and Sean.  With Tyler just into his 20's and Audrey just starting college, Sean has his parents all to himself!  Having fewer demands on her schedule at home, Fi is hoping to have (slightly) more time to indulge in some good books, and even maybe (just maybe) rejoin her book club.  
If she's not reading at home, then you are likely to find her reading on the beach.  Having spent the first 12 years of her life on the coast of Peru, her family then moved to the sunny sands of Fort Lauderdale.  After graduating from Cardinal Gibbons High School, Fi attended the University of Miami (UM) as a premed student.  It was from UM she received her Bachelor of Science in Psychology before deciding to pursue physical therapy.  She went on to graduate as a Physical Therapist Assistant from Lynn University.  
A dynamic combination of life and work experience, Fi joins Clear Choice Physical Therapy as their first Spanish-speaking therapist.  Often switching back and forth between languages, she is able to communicate with patients and caregivers in whichever way is most comfortable for them.  For Clear Choice, Fi easily proves to be a natural fit for the team.