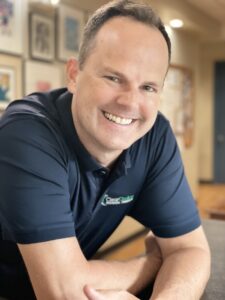 Erik Bleeker, MSPT, CSCS is a Fort Lauderdale-based physical therapist and founder of Clear Choice Physical Therapy. Bleeker (you can call him "Bleeker" if you want, all his friends do) specializes in outpatient orthopedic conditions including injury, post-surgical, chronic pain and age-related issues. These are some very common issues that prompt more than 10 million Americans to seek care from physical therapists each year. What's not common is the level of expertise and attention you will receive from Bleeker throughout your recovery.
When you arrive at Clear Choice, you will be greeted by the delightful Chantal. Chantal is Clear Choice's office manager extraordinaire who first came to Clear Choice as a patient in 2016. Next, with Bleeker as your physical therapist, you can expect to spend the entirety of your appointment working one-on-one with him. In addition to clearly defining "what's wrong" Bleeker will want to thoroughly understand your background. What do you do for work?  How do you spend your free time?  Have you turned to physical therapy because you want to get back to playing a certain sport? Or are you hoping to spend more pain-free, quality time with your children or grandchildren? During subsequent appointments, Bleeker will work with you (and you only) taking careful note of your progress, and areas that need more attention. This personal focus will allow for minor but important adjustments that will make your path to recovery that much smoother.
Bleeker opened the doors to Clear Choice in September of 2014, after 12 years working as a physical therapist and clinic director at several physical therapy practices both in Florida and New York. He was driven by a desire to provide a patient with the very best in straightforward, customized care. He envisioned a practice where he could build relationships with his patients based on an honest assessment of their situation, unhindered by the dynamics of larger healthcare organizations. Clear Choice's proximity (it's right inside) to Fort Lauderdale's well-respected and no-nonsense gym, The Fitness Clinic, allows Bleeker access to state of the art exercise equipment while keeping Clear Choice itself small and very personal. 
Clear Choice has grown almost exclusively from referral business. When people feel better, they talk about it! 
Bleeker met his wife, Kelly, at the University of Florida where they both earned their undergraduate degrees. Bleeker then went on to earn a Master's degree in Physical Therapy before moving to New York, NY. In New York, Bleeker worked as a staff physical therapist at Westside Sports Physical Therapy and was quickly recruited to be the Clinic Director of the Manhattan-based Premier Physical Therapy & Wellness. Upon their return to Florida in 2006, the Bleekers moved to the Imperial Point neighborhood where they currently live with their three children: Jack, Bo and Kate. When he's not working one-on-one with patients at Clear Choice, you can find Bleeker playing soccer with his kids, working on home-improvement projects, or strategizing a game of chess and once in a while binge-watching the latest series on Netflix. His current favorite is Peaky Blinders.  Additionally, the Bleekers are widely regarded throughout Fort Lauderdale as having the most clever Halloween costumes every year.